Valley Fever - a Taste of Tucson's Underground
Way back when (1982) in the land of Tucson punk rock, Lee Joseph ran the local Roads to Moscow record store. He also played bass in a few bands and did some recording work in his spare time. This compilation tape was put out by him on the Iconoclast label, issue# IC8204.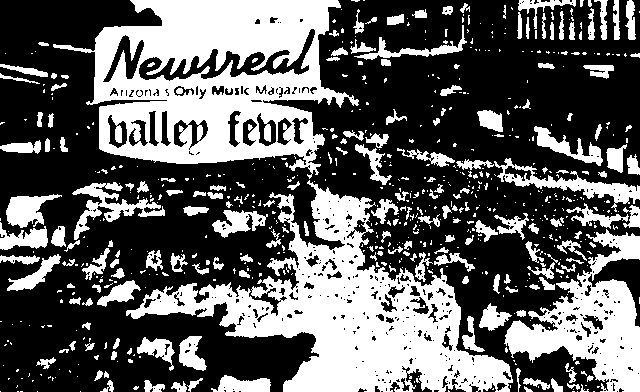 Please enjoy this stuff. No commercial potential and all that.
View the PDF file of the booklet that came with the tape.
The complete tape cover as a B/W GIF image.
Liner notes:
GREETINGS,
This tape was a long time in the works. The entire project was almost scrapped several times due to limited finances. But thanks to the help of Autograph Studios and Newsreal, Valley Fever is a reality.
Several of the groups gave me tapes they recorded at home or at local studios (S.S.K.; cowgirls, the; Three Americans; The Chromatics; The Flicks; Deathcamp; Quantum Mecanics; Lance Kaufman; Urban Guerillas). Green on Red, a former Tucson group named the Serfers, was recorded live with a 'ghetto blaster'. One group specially went to the studio to record songs for this tape (Jacketweather). The remainder of the groups were recorded by me on a cheap four track, then mixed down later.
Oh yea, History of the World Part Three and Worthless were recorded by going back and forth from a cassette to a reel to reel.
If your ears have been tuned to the perfect, clean over-produced musak sound we've all been exposed to, then you might be insulted by some (not all) of the songs on this tape. . . The human factor of mistakes, not perfectly tuned instruments and voices, feedback, raw recording quality have been left in making this tape what it is.
High tech quality was not the goal of this tape. Dropout, distortion from cheap or damaged tapes and the fact that 10 of the songs were mastered off cassettes account for the varying quality of this tape.
For a long time I've felt that there is a lot of good music coming out of the Tucson Underground. There is a need to document this, and Valley Fever is the first attempt at doing so.
Fact is you can now take home the music of the streets, your city, your friends. This is the real music, and that's what matters to true music fans. . .
THANKS FOR YOUR TIME
LEE JOSEPH
Here is a ZIP file of the music.
Below are MP3 files digitized from an original cassette tape.
(All spelling is a faithful reproduction of the original liner notes.)
Dark Stroll by Les Seldoms
Machine by Urban Guerillas
Raiding the Refrigerator by Cowgirls, The
False Faith by P.T.V.
Ariel Bombardment by The Chromatics
Nothing Is by Seldoms
History Of The World Pt. Three by Lee Joseph & Lance Kaufman
Blase by Phantom Limbs
I Never Did by Three Americans
Out Of My Life by Stainless Steel Kimono
Jonestown by Pridy Syringe
Well Now by The Flicks
Water Ritual by Death Camp
Book Burning by Urban Guerillas
America Is Right by Conflict
Cookies by Conflict
Underground by Les Seldoms
Meet Market by Three Americans
Manifesto by Lance Kaufman
Walking Alone by Seldoms
Turn It Off by Quantum Mecanics
Worthless by L.J.
Somnambulance by Phantom Limbs
Apt. Six by Green on Red
Set Ajar by Jacketweather
In Like Flint by Jacketweather
Her Marriage by Jacketweather
Greenworld by Sin of Detachment